MedicalResearch.com Interview with:
Dr. Chirag Patil, MD
American Board Certified Neurosurgeon
Brain & Spine Tumor Program
Lead Investigator, Precision Medicine Initiative Against Brain Cancer
Program Director, Neurosurgical Residence training program
Director, Center for Neurosurgical Outcomes Research Cedars-Sinai Medical Center, Los Angeles, California
MedicalResearch.com Editor's note: Dr. Patil's research is focused on developing a method of personalized cancer treatment through the harnessing of genome wide mutational analysis of a specific patient's cancer.
MedicalResearch.com: Would you tell us a little about yourself and your research interests?
Dr. Patil: I am a Stanford-trained, Board Certified Neurosurgeon and cancer researcher at Cedars-Sinai Medical Center in Los Angeles, California. I primarily focus on the care of patients with malignant brain tumors, particularly glioblastomas. I received my undergraduate degree from Cornell, followed by a medical degree from the University of California, San Francisco (UCSF), where I was a Regent's scholar. I completed a residency in neurosurgery and a fellowship in stereotactic radiology at Stanford University. I also have a master's degree in epidemiology with a focus on clinical trial design and mathematical modeling from Stanford.
MedicalResearch.com: Can you tell us about some of your research interests?
Dr. Patil: I am keenly interested in and focused on developing precision science-powered novel brain tumor therapies, immuno-therapies, and patient-centered "big data" outcomes research. I lead the recently-funded Cedars-Sinai Precision Medicine Initiative Against Brain Cancer, which utilizes tumor genomics to build a mathematical computer model, i.e., a virtual cancer cell of each patient's unique tumor. The White House and several other stakeholders have taken keep interest in this research initiative as an example of a leading precision medicine program.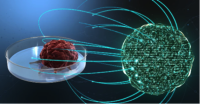 The Cedars-Sinai program uses precision science to build a mathematical virtual brain tumor for testing.
MedicalResearch.com: What is the background for the Precision Medicine Initiative Against Brain Cancer?
Dr. Patil: Glioblastomas are very aggressive cancers for which no cure has been developed. My patients usually die from their disease within a brief 15 months.
Until now, molecular diagnostic modeling of tumors has focused on finding one critical mutation that can be attacked with a targeted drug. However, it takes 300-500 mutations to make a cell cancerous. Cancer cells are adept at evolving quickly, much like bacteria, to allow a portion of the tumor to survive and thrive even if current treatments kill portions of the tumor.
My idea, that was brought to fruition with a collaboration with Cell Works, Inc., was to find a way to model all the mutations of a particular glioblastoma simultaneously, with the goal of using data from real tumors to find targets that can be effectively attacked.
Our precision science strategy has only been possible through an intense collaboration between academia and industry. We have brought together individuals with diverse expertise in cancer biology, software engineering, mathematics and pharmacology to holistically model most of the known cancer cell-signaling pathways.
MedicalResearch.com: Can you tell us more about how the process works? How long does it take? What does it cost?
Dr. Patil: The first step is to obtain tumor tissue from the patient and then to grow cells from that tumor in the laboratory. This is the most time-consuming part of the procedure.
We then make a 'virtual tumor' by using tumor genomics to build a mathematical model of most of the known cancer cell-signaling pathways.
Using this model we are able to simulate response predictions to the real patient's tumor cells that have been growing in our laboratory in order to optimize treatment for each individual patient. Instead of a one-mutation, one-drug approach, we can model almost 200 drugs in combination to find the most effective therapy for that patient.
MedicalResearch: How many tumors are you currently evaluating?
Dr. Patil: We are currently evaluating our first five tumor samples. Over the next six months, we will have data on 25 additional brain tumor samples. These lab experiments will be followed by randomized clinical trial, comparing my Precision Medicine treatment algorithm to a current standard treatment regimen.
MedicalResearch.com: How long does the process take? What does it cost?
Dr. Patil: The process takes about eight weeks, although we think we can soon bring that down to about six weeks. It currently costs about $75,000 per patient, which is why we need the investment and assistance from industry as well as grants. However, this cost too should be reduced through economies of scale because after the in-Silico computer model is optimized and validated with these initial experiments, there would no longer be a need for growing the actual tumor.
MedicalResearch.com: What other uses do you foresee for this technique?
Dr. Patil: First, the technology will be applicable to other tumors besides brain cancer/glioblastomas. Other groups are working on related processes for lung and liver cancer as well as multiple myeloma.
In addition, the process should allow for the more rapid development of new therapies as 'virtual' targets are identified that could be attacked with the confidence that they will precisely affect a particular tumor pathway.
MedicalResearch.com: Thank you, Dr. Patil. We look forward to learning more about this exciting step forward in precision medicine as your work progresses. You can follow Dr. Patil and his precision science approach to treating brain tumors by visiting
www.BrainTumorExpert.com.
References: (8 of 86 PUBMED citations for Dr. Chirag Patil)
Surgery for spinal stenosis: long-term reoperation rates, health care cost, and impact of instrumentation.
Lad SP, Babu R, Ugiliweneza B, Patil CG, Boakye M.
Spine (Phila Pa 1976). 2014 May 20;39(12):978-87. doi: 10.1097/BRS.0000000000000314
2.
Interspinous device versus laminectomy for lumbar spinal stenosis: a comparative effectiveness study.
Patil CG, Sarmiento JM, Ugiliweneza B, Mukherjee D, Nuño M, Liu JC, Walia S, Lad SP, Boakye M.
Spine J. 2014 Aug 1;14(8):1484-92. doi: 10.1016/j.spinee.2013.08.053.
Epub 2013 Oct 4.PMID:24291409
Complications, reoperation rates, and health-care cost following surgical treatment of lumbar spondylolisthesis.
Lad SP, Babu R, Baker AA, Ugiliweneza B, Kong M, Bagley CA, Gottfried ON, Isaacs RE, Patil CG, Boakye M.
J Bone Joint Surg Am. 2013 Nov 6;95(21):e162. doi: 10.2106/JBJS.L.00730.
4.
Racial disparities in outcomes of spinal surgery for lumbar stenosis.
Lad SP, Bagley JH, Kenney KT, Ugiliweneza B, Kong M, Bagley CA, Gottfried ON, Isaacs RE, Patil CG, Boakye M.
Spine (Phila Pa 1976). 2013 May 15;38(11):927-35. doi: 10.1097/BRS.0b013e31828165f9. PMID: 23232216
5.
Disparities in the outcomes of lumbar spinal stenosis surgery based on insurance status. Lad SP, Huang KT, Bagley JH, Hazzard MA, Babu R, Owens TR, Ugiliweneza B, Patil CG, Boakye M.
Spine (Phila Pa 1976). 2013 Jun 1;38(13):1119-27. doi: 10.1097/BRS.0b013e318287f04e.PMID: 23354106
Morbidity, mortality, and health care costs for patients undergoing spine surgery following the ACGME resident duty-hour reform
Babu R, Thomas S, Hazzard MA, Lokhnygina YV, Friedman AH, Gottfried ON, Isaacs RE, Boakye M, Patil CG, Bagley CA, Haglund MM, Lad SP.
J Neurosurg Spine. 2014 Oct;21(4):502-15. doi: 10.3171/2014.5.SPINE13283. Epub 2014 Jul 4.PMID: 24995600
Multiple resections and survival of recurrent glioblastoma patients in the temozolomide era.
Ortega A, Sarmiento JM, Ly D, Nuño M, Mukherjee D, Black KL, Patil CG.
J Clin Neurosci. 2016 Feb;24:105-11. doi: 10.1016/j.jocn.2015.05.047. Epub 2015 Dec 5.|PMID: 26671314
The Efficacy of Ketogenic Diet and Associated Hypoglycemia as an Adjuvant Therapy for High-Grade Gliomas: A Review of the Literature.
Varshneya K, Carico C, Ortega A, Patil CG.
Cureus. 2015 Feb 27;7(2):e251. doi: 10.7759/cureus.251. eCollection 2015 Feb. Review.
PMID: 26180675
The Dream of Precision Medicine; The Reality of Missing Data
by
Lauren Quattrochi | Oct 22, 2015
Ao understand the revolution of precision medicine, think of a library not unlike the library of Alexandria in its scope. It would contain all the robust and relevant medical data in the known world—which in this case would comprise over a million Americans—and it would be shareable with researchers and doctors. The goal? E Plurubus Unum: out of the many, and through mapping the boundaries of individual variation, we could understand the one. With such keys, we could design innovative clinical trials, devise new combinatory therapies, and broaden our understanding of drug resistant infections. We could create a platform for more accurate diagnoses, develop novel therapeutics, and make health data portable within the US healthcare system. We could unlock you.
These were the exciting possibilities discussed at the recent annual Health Data Consortium in Washington. Dr. John White, the Deputy National Coordinator for Health Information Technology told experts from around the country that the Obama administration's Precision Medicine Initiative will combine research, technology, and policy to create a system where engaged patients will participant in shaping the new data initiative. A key aspect of this will allow patients to add such information to their electronic health records (EHRs), the current approach that healthcare professionals use to review and record a patient's health data. Unfortunately, a major flaw in the system has been poor record keeping in individual EHRs and the challenge of moving these records from one doctor to another. "We need information to flow […] in a timely meaningful way for the right treatments to reach the right patients at the right time," said White.
Precision medicine in theory and in practice
Dr. Chirag Patil, the Director of the Center for Neurosurgical Outcomes Research at Cedars-Sinai Medical Center, told the conference that "precision medicine is not a new idea." He believes every good doctor individualizes patient care, and that what we are building is precision
science
by creating a comprehensive dataset that empowers already-practiced precision medicine. He elaborated on how he treats glioblastoma patients (a fatal brain cancer) by extracting the cancer and dividing the tissue sample between the pathologist, genomics core and cell culture specialist. Numerous studies have been published showing that cancer cells exhibit different genetic variations, and cancers may be better described by their specific gene variations rather than their organ of origin.The tissue is genetically sequenced and the data in input into a mathematical model where Dr. Patil can test how certain anti-cancer drugs could theoretically combat that specific cancer. Therapy recommendations extracted from the model could then be tested
in vitro
on the patient's specific cancer grown in culture (before supplied to the patient). However, the mathematical model relies on the quality and thoroughness of reported data on current drugs. Now recall that half up to half of that trial data may not be accessible. The question is whether this process for designing and tailoring therapies for patients is scalable solution, both financially and in practice. As a surgeon, Dr. Patil has access to tangible and expendable patient tissue; but what about those patients who suffer from more complicated aliments such as bipolar and depression. How would one create a mathematical model and test therapies before entering the patient that is specific to that patient's genetic profile or lifestyle? As conference attendee Dr. Christine Tuley, Chief Medical Officer at Health Sciences in South Carolina and Professor of Clinical Pediatrics at USC, told Sense About Science USA:
"I find myself still considering the scalability of these new frontiers in medicine—they hold such promise! There is an eagerness and hopefulness that is almost palpable among patients for this concept of precision science/medicine to lead to the next generation of breakthroughs, yet there is also a general sense that comes from the patient community that the pace of this progress is too slow. This new future of medicine and healthcare is a perfect fit for Sense About Science USA, there are many who will need a clear respected voice to provide insights—from the medical community itself that is grappling with a transformation in fundamentals of how we provide care, to the patient community—both those that are well and those that are struggling with disease, all of whom are looking for answers that are understandable and actionable."
In a panel discussion afterwards, Sense About Science USA's director Trevor Butterworth noted that new protocols such as Extensible Data Interchange (XDI) will solve many of the valid and pressing concerns over protecting patient health data—while enabling absolute control on what the patient decides to share. The situation we're in now, he said, is analogous to email before the advent of SMTP (simple mail transfer protocol): different data systems cannot directly communicate with each other much like an AOL address couldn't reach a Pine address back in 1990; XDI will allow such interchange but without having to move or transfer data anywhere. You will be able to use a link contract—a binding encrypted permission that allows you to control what is shared. This has revolutionary potential for clinical trials, Butterworth said, as—in theory—any participant in a trial anywhere will be able to give any researcher access to their data on their terms.
But, he said, the technology to do all this is about five years away. What we need to do right now was to "go back to the future" by focusing on those clinical trial results that have not been published, estimated at up to fifty percent of all the clinical trials ever conducted; and by ensuring that our current technologies for data sharing in medicine—notably clinicaltrials.gov—were supported and used. Solve the problems that are solvable now, argued Butterworth, and let technological innovation take care of the rest in due course. This wasn't just important from a practical point of view; it was easy to get lost in the excitement of precision medicine and to forget that data privacy is a wider cultural issue—one generating increasing concern in society. No matter how much promise personalized medicine held, successful implementation would be affected by more general privacy concerns. Butterworth recalled visiting a major contract research organization for a story for the New Yorker.com, and being told that concerns about surveillance and data tracking were already leading patients in trials to worry about consenting to share such basic yet critical information as their ages. The pharmaceutical industry, he said, needed to focus now on building the kind of trust that would be essential for precision medicine to work in the future—and the best way they could do this would be by embracing the goals of the AllTrials campaign.Photo credits: Top photo, U.S. Chief Data Scientist at White House Office of Science and Technology Policy, DJ Patil; bottom photo, panel discussion—Amy Chang, Digital Media and Communications Manager, Health Data Consortium.
Dr. Patil @ precisioncures panel in Washington DC.
October 13, 2015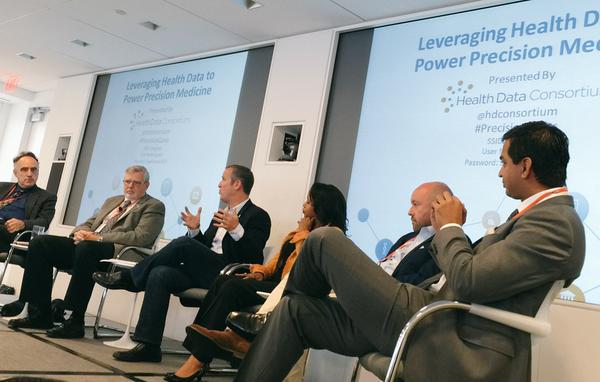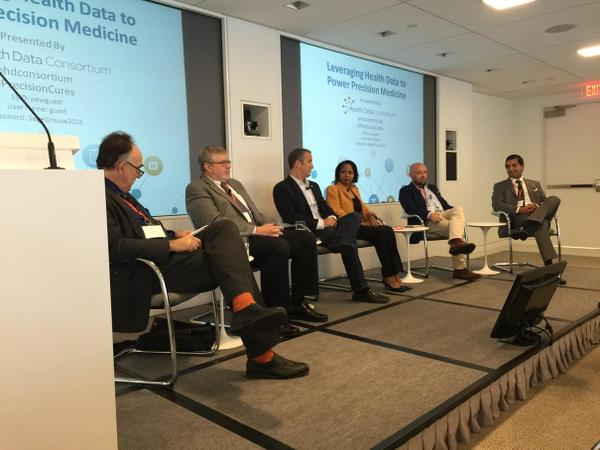 Frank Stoltze
| Jun 11, 2012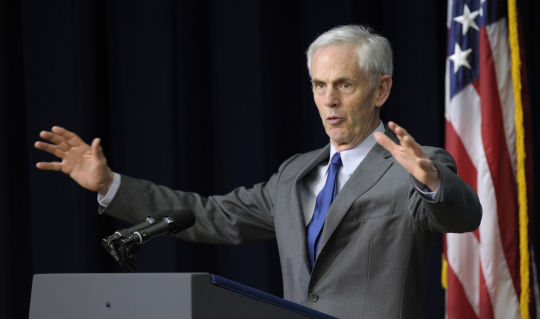 Susan Walsh/AP
Commerce Secretary John Bryson speaks at the White House in Washington, Wednesday, Jan. 11, 2012.
1
Comments
Add your comments
Listen Now
[3 min 9 sec]
The Obama administration announced tonight that Commerce Secretary John Bryson will go on medical leave following his involvement series of car accidents in the San Gabriel Valley over the weekend.
"We're obviously concerned about the incident, concerned about Secretary Bryson's health-related issues that played a role in this incident," Spokesman Jay Carney said earlier in the day. "We're still gathering information about it."
A Commerce Department spokesman said Bryson, who lives in San Marino, had a seizure. Police are continuing to investigate the incident in which Bryson hit the same car twice within a few minutes in the city of San Gabriel. He spoke with the driver the first time, but didn't stop the second.
"Mr. Bryson left the scene of the collision, which resulted in it being classified as a hit and run collision," Los Angeles County Sheriff's Lt. Margarito Robles said.
Robles said the driver or one of his passengers called 911. But before police could respond, Bryson hit another car in the nearby city of Rosemead. "Mr. Bryson was found alone and unconscious behind the wheel of his vehicle."
Bryson, 68, stayed overnight at a hospital and flew back to Washington D.C. on Sunday. Robles said sheriff's officials felt confident they could find him if they want to question him further.
It's unclear what legal problems Bryson may face. Police cited him for felony hit-and-run. It'll be up to the district attorney to decide whether to file charges. If he had seizure, and was unable to think properly, prosecutors may opt to drop any charges.
The term "seizure" describes a wide range of symptoms, Dr. Chirag Patil, a neurosurgeon at Cedars Sinai Medical Center, said.
"It can just be a twitch of the arm or the leg, all the way to a complex seizure where the individual completely passes out and loses consciousness."
Patil said people in Bryon's age range – their mid- to late 60s – are at greater risk. The causes can include infection, a change in medications, or even adult onset epilepsy.
The doctor – who is not involved with Bryson's treatment - said he found it "interesting" that the Commerce Secretary flew on a plane so quickly after the incident. He added that Bryson's doctors likely prescribed medication to prevent further seizures.
ABC News reports that Bryson blacked out at a board meeting for Boeing four years ago. If that happened, California law would have required Bryson to report it to the Department of Motor Vehicles. His doctor would have had to report it too, Patil said.
"All physicians have to report a condition that can cause lapses of consciousness," he said.
President Obama appointed Bryson as Commerce Secretary a year and a half ago. Before that, he headed Edison International – the parent company of Southern California Edison. He previously sat on the boards of Boeing, Disney, Stanford University and Cal Tech. Bryson founded the Natural Resources Defense Counsel in 1969.
Bryson was in Southern California in part to deliver a commencement speech at a private high school in Pasadena last Thursday. Bryson's wife sits on the board of Southern California Public Radio, the parent company of KPCC.
Introducing the Metastatic Brain & Spine Tumor Clinic at Cedars-Sinai Medical Center. Directors: Chirag G. Patil MD & John Liu MD
The goal of the
Metastatic Brain & Spine Tumor Clinic
is to provide compassionate, cutting edge, evidence-based-care to patients with brain and spine metastases. With our systematic approach to the diagnosis, treatment and follow-up we focus on maximizing quality of life. This is a interdisciplinary clinic where we have not only neurosurgeons but also specialists from radiation oncology and neuro-oncology that can evaluate patients during the same visit.
The Clinic will be staffed by Stanford trained neurosurgeon, Chirag G. Patil M.D. who specializes in the care of Metastatic Brain Tumor patients together with one of most experienced Spine Tumor experts, John Liu MD. All new consultations are seen within a few days and urgent consults can be seen within 24 hours.
For an appointment, please call
310-423-7900
and then press 1 to be connected immediately to a new patient scheduler.
Sincerely,
Chirag G. Patil John Liu